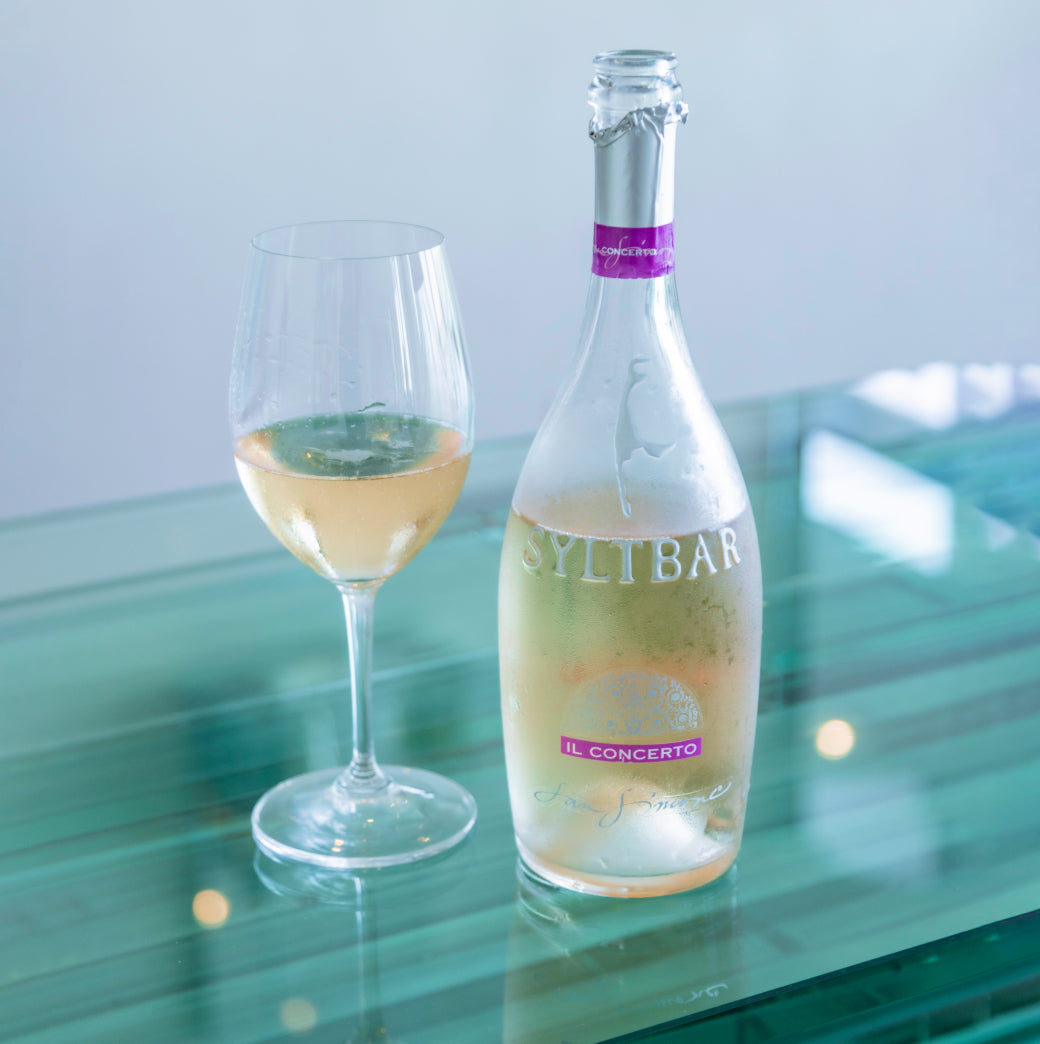 Don't be a snob. Choose a good Prosecco over Champagne.
There are excellent varieties of Prosecco from Italy that rival the best Champagne, and are even better than mediocre ones. A true wine lover should never be hung up on names and labels.
Sparkling wine is the most versatile wine to pair with food.
Many people tend to reserve sparkling wine for special occasions, but we really should have it all year round. Start popping SYLTBAR bottles like a pro, all 365 days of the year! Master Sommeliers have never hesitate to pick a bubbly to enjoy with dinner. After all, what food doesn't taste better with a squeeze of lime on it? A good sparkling wine, that is also acidic, can pair well with anything from tuna tartar to beef bourguignon.
Is sparkling wine in a split or half bottle worth it?
Simply put, no. Sparkling wine that comes in smaller bottles age faster due to a greater ratio of air to wine. That is why SYLTBAR doesn't offer smaller sized bottles.
It is not Champagne unless it comes from Champagne, FR.
Don't call sparkling wine from California or Australia "Champagne," however wonderful it may be. It is only Champagne if it's from that specific part of France. The same goes for Prosecco. Prosecco comes from Northern Italy, and Cava comes from Spain.
Don't allow the cork to pop loudly.
Locate the pull tab and gently tug in the direction of the strip to cut open the foil, remove. Fold down and unscrew the wire, then remove, Hold the cork, and gently twist the bottle (not the cork). This allows the cork to release with a muted thud thatsays 'I am a person of the world,' rather than a loud explosion. This way, you'll have more SYLTBAR in your glass than spilled on the floor. 
Putting ice Cubes in Champagne or Prosecco is just trendy.
Just remember - trendy and tasteful are not the same thing. Ice can affect the delicate aromas of fine Champagne, Prosecco or any sparkling wine. If you think this sounds like a smashing good time, you probably aren't drinking if for the delicate aromas.
Older is NOT always better, especially for Prosecco marked Non Vintage.
When it comes to wine, this might be true. But this is not the case for Champagne and Prosecco marked Non Vintage. Non Vintage Prosecco should not be older than a year, so as to make sure it stays crisp and fresh.
What type of glass should you serve sparkling wine in?
Contrary to popular belief, Champagne flutes are not the best for properly enjoying sparkling wines and their aromas. Try putting your sparkling wine in a white wine glass or one designed to work with Champagne's chemical and aromatic compositions, such as the Riedel Veritas Champagne glass. Using a glass such as this ensures that the juice that has been imprisoned within the glass will have some space to breathe. Try it next time, it makes a big difference.
Stay away from mimosas - unless you make it yourself!
When you're brunching at a restaurant, it's tempting to enjoy a mimosa (or two), but restaurants need to make a profit, so their mimosas are usually a mix of very cheap sparkling wine and a lot of sugary, store-bought orange juice. Headache guaranteed - don't say we didn't warn you! A good mimosa should be made with a high quality sparkling wine, and should always be mixed with freshly squeezed orange juice.
IS a DOCG Prosecco is a better Prosecco than the DOC?
No, DOC (Denominazione di Origine Controllata ) and DOCG (Denominazione di Origine Controllata e Garantita) are two core standards of the designation for wine. They determine the location of where the wine was produced, not its quality.