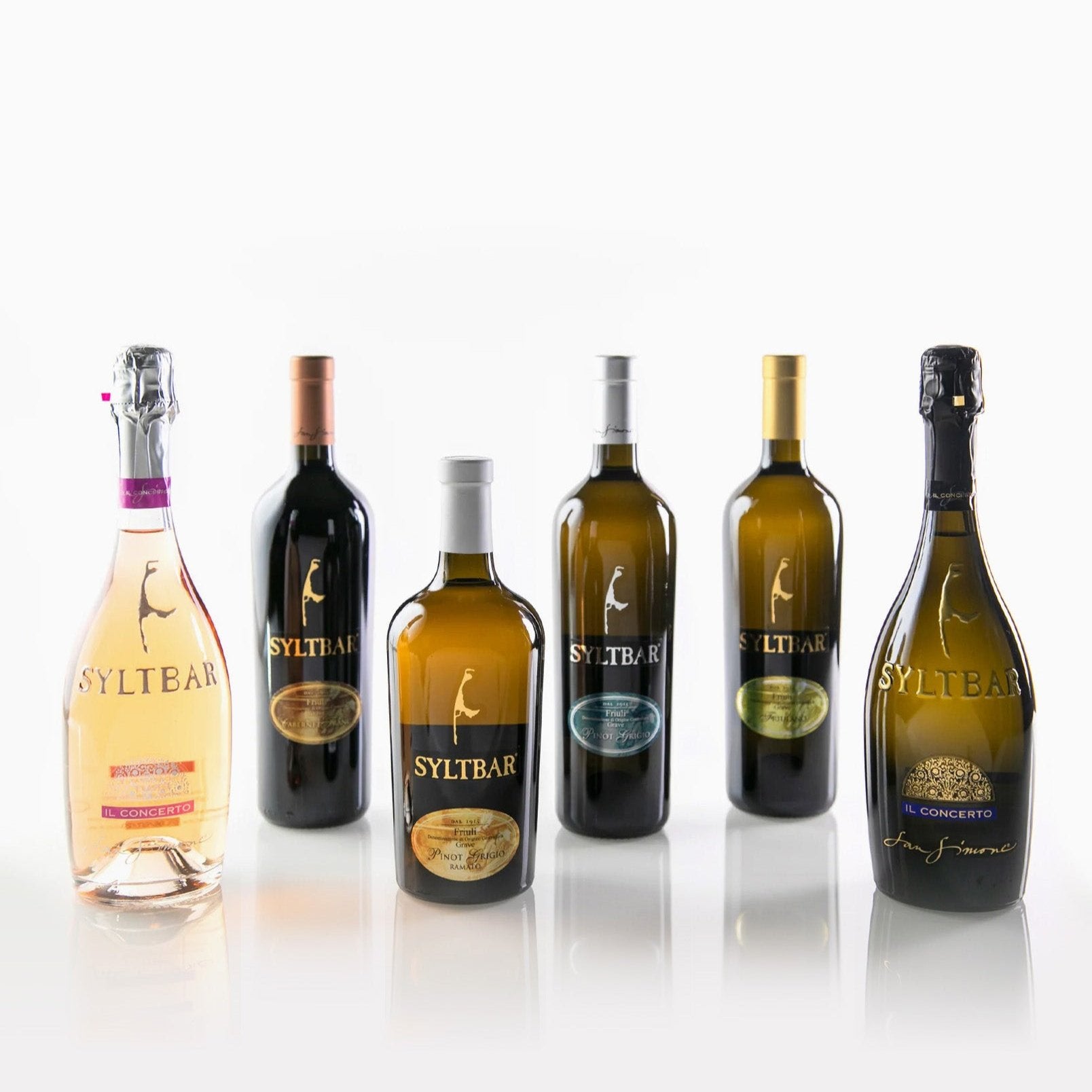 SYLTBAR Mix Box
THE ULTIMATE and absolute best choice to have enough 100% natural produced SYLTBAR bottles in your house for every dish, occasion and taste. 

Regular price
$299
Sale price
$269
Unit price
per
Free ground shipping with 12+ bottles
Orders before 10AM EST ship same business day.
Mix Box Product Details
Here's what you'll receive with your SYLTBAR Mix Box: 
You save $31.00 plus complimentary shipping.
*Latest vintages available. Please see each product page for the specific vintage year.
Why is SYLTBAR Wine very low on sugar and sulfites?
All SYLTBAR wines are time – honored with the value of a long fermentation. The grape has time to develop to the full ripeness. Other Brands like to skip the long fermentation process (time is money) and they have to use much more sugar to make the wine taste full. A set of actions has always guided our wine producer with maximum respect of health for human beings
Very Low Sulfite Wine
Sulfites are a natural by-product of the fermentation process that act as a preservative against certain bacteria. A short fermentation process doesn't produce enough sulfites to preserve a wine for more than a few weeks, which is why added sulfites become necessary. Wine ranges from about 5ppm (5 parts per million) to about 250ppm/L. The legal limit in the US is 350ppm g/L. We are transparent, that is why you will find the filling date on our Mr and Mrs SYLTBAR bottles.
SYLTBAR is Vegan, Organic, Green Project Certified
Vegan Wines
The majority of wines are not vegan or even vegetarian friendly. All wines are cloudy and contain microscopic molecules. Our wines stay in the tank long enough to self-stabilize with the slow sedimentation of these particles. 95% of the wines contain clarifiers like egg white, gelatin and fish bladder to clear out those particles. Time is so essential for a 100% natural produced wine.
Organic / Green Project
SYLTBAR wines are much more than simply Organic. The Green Project is a set of actions, behaviors and procedures that have been put in place to contribute to the environmental sustainability of our business, respecting the existing territorial balance. "Social responsibility" has always guided our wine producer with maximum respect for the communities in which the winery operates. 100% no Additives
Excellent wine!
I order this wine by the case. It's absolutely delicious - crisp, not too sweet. I have a bottle in my fridge at all times. I's just a plus that this is lower calories and less sugar than all other Prosecco's!I love that these wines taste good and are low in sugar too.
— Sarah R.
Mix box
All of the wines, I have tasted thus far are great and less calories! and less alcohol! i especially love the Prosecco and Rose
— Cathy C.
Mix Box
I absolutely love this wine box! Not only is it a great value but the wine is delicious!!!
— Katie
Nothing Added, Nothing Removed ...
Sugar is your Enemy
The University of Miami Diabetes Research Institute tested sparkling wines and found SYLTBAR has the lowest sugar content.

Our Extra Effort
Despite the fact that we are not vegan, our wine is vegan. The majority of wines are not vegan or even vegetarian-friendly.

Respect for Nature
The Green Project certification, found on each of our bottles, is a step above organic in respect of Mother Nature.
Sparkling Wine Sugar Comparison
Glucose (mg/100ml)

Syltbar

Zardetto

Chandon

Santa
Margherita

Veuve
Cliquot

Mionetto

Moet & Chandon

La marca

Ruffino
Sparkling Rose Wine Sugar Comparison
Glucose (mg/100ml)

Syltbar

Zonin

Graham
Beck

Chandon

Veuve
Cliquot

Mionetto

Moet &
Chandon

Anna Rose
Ruffino