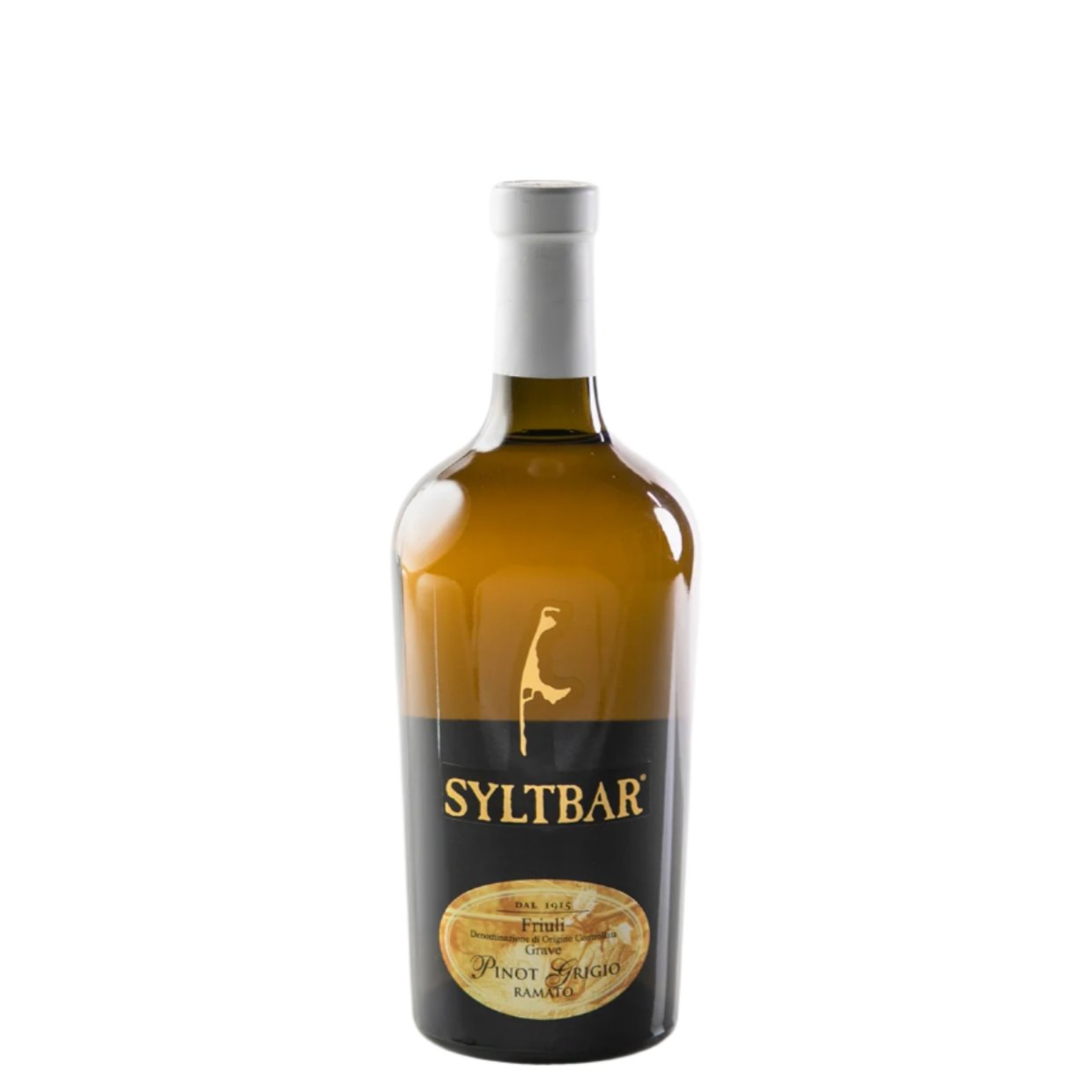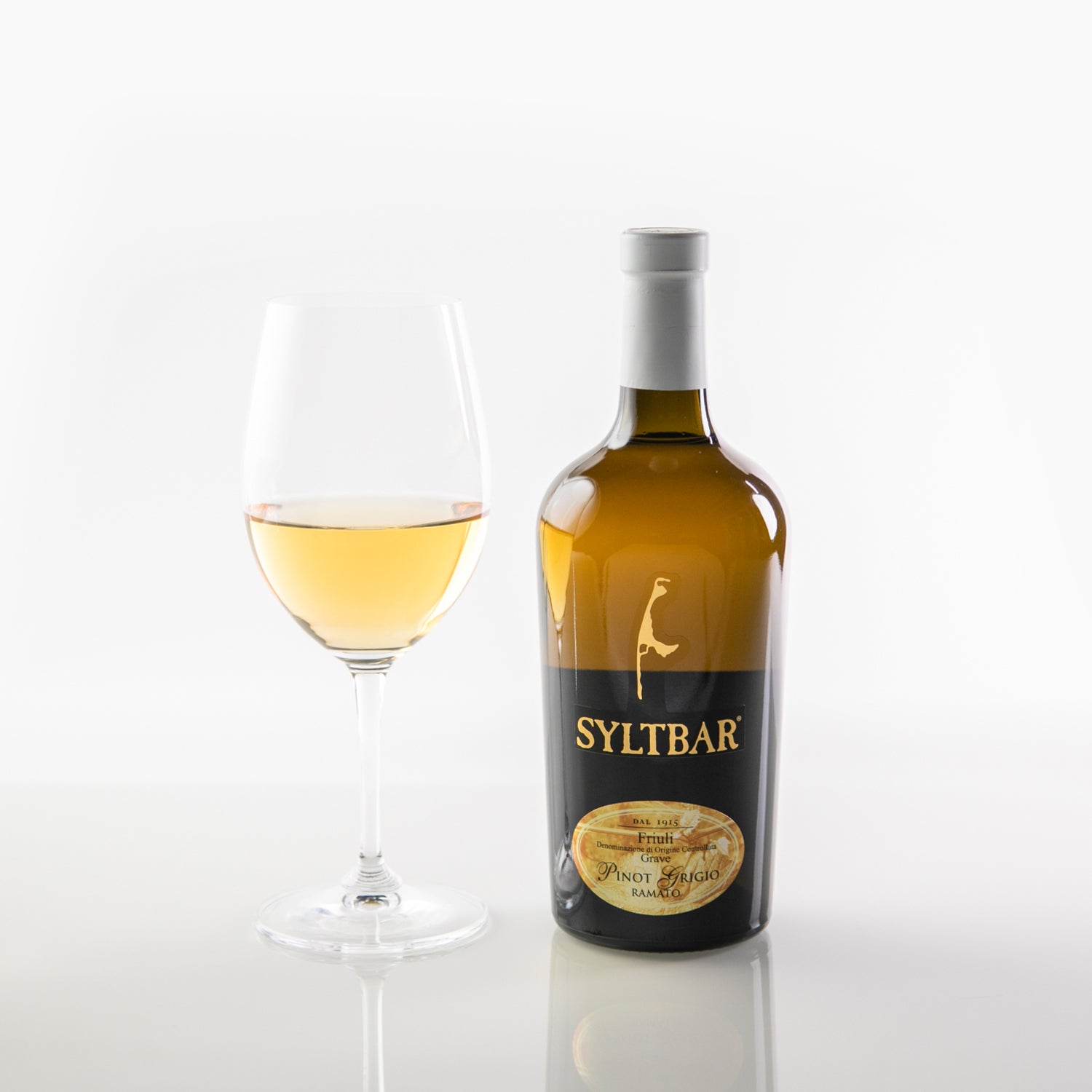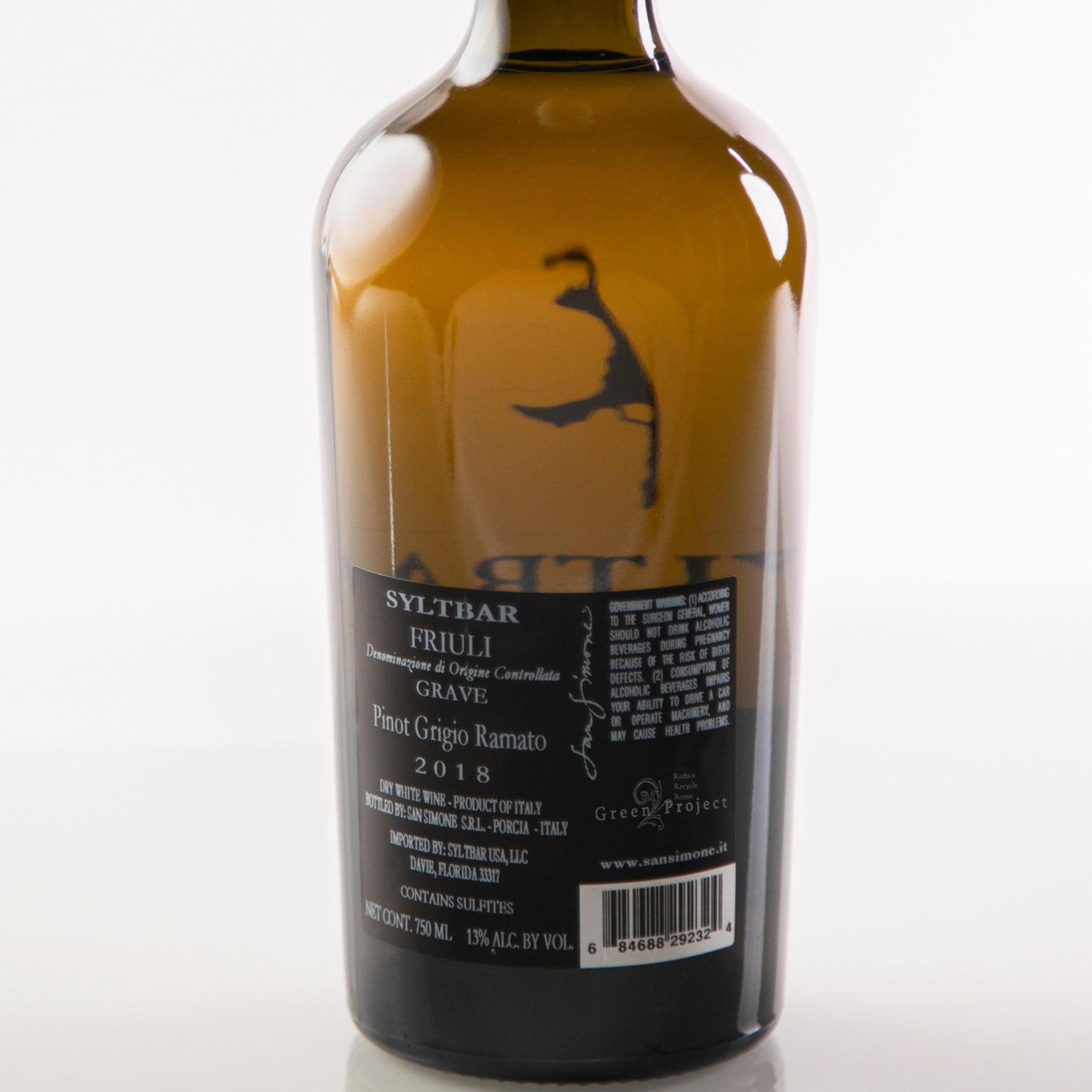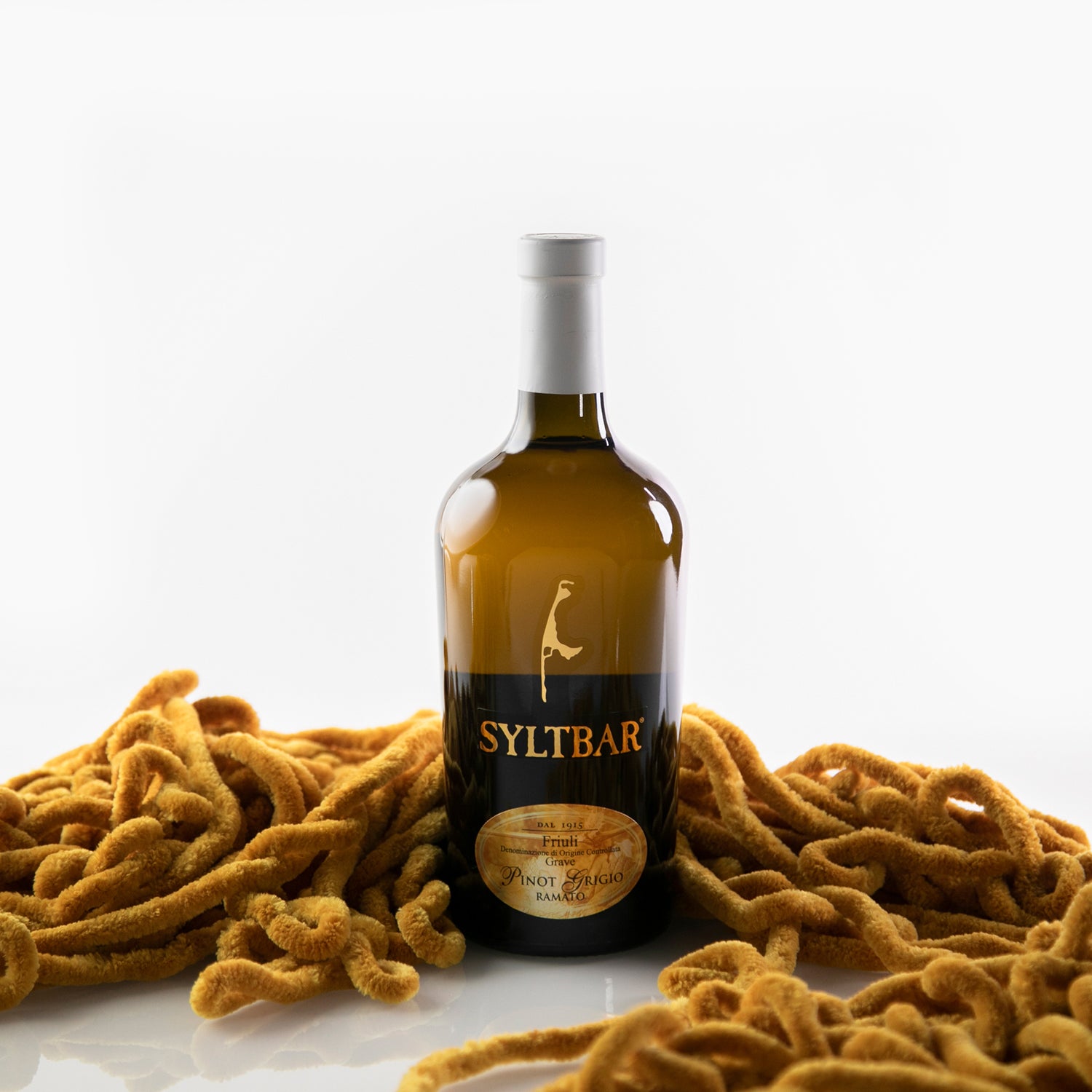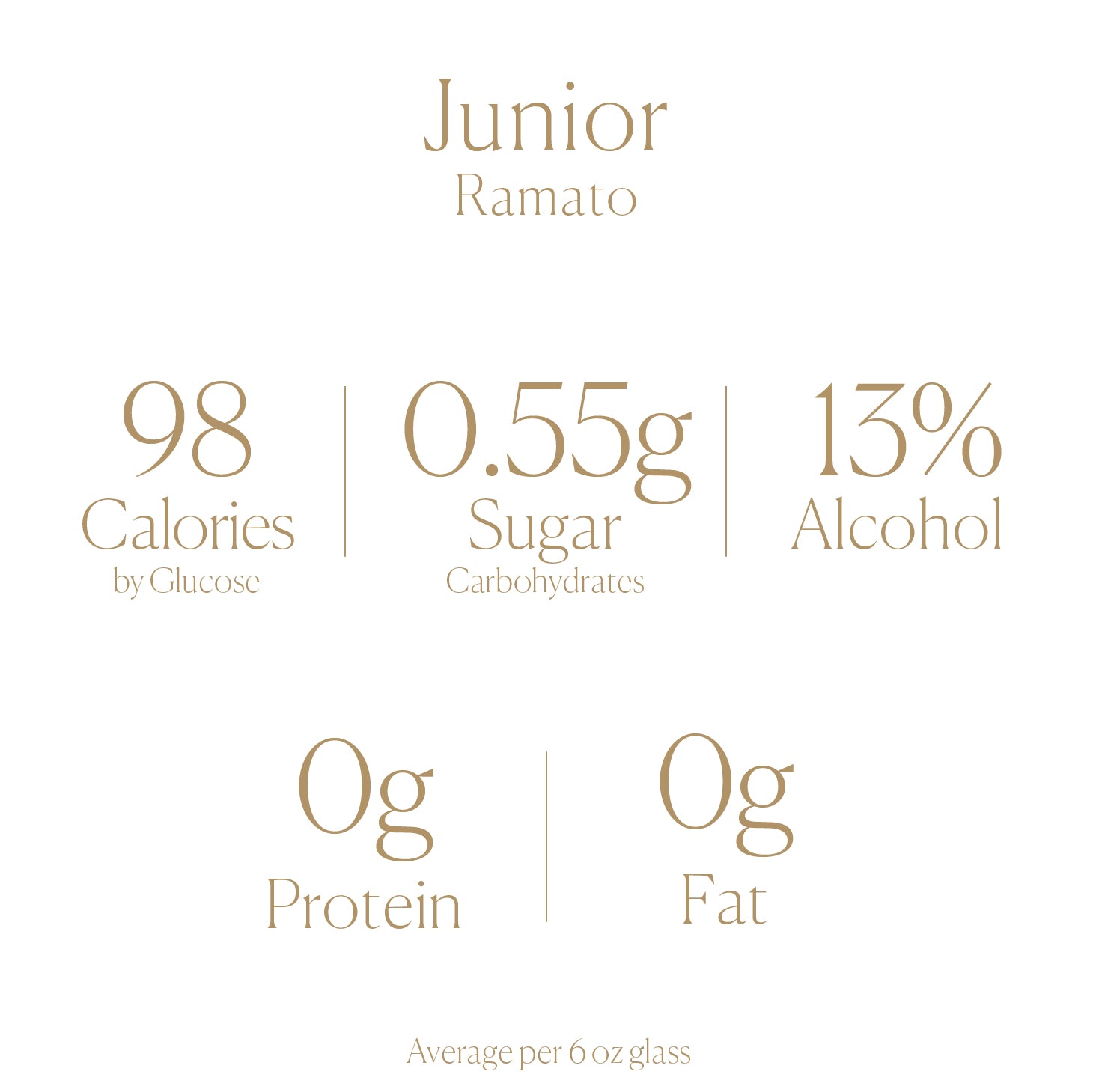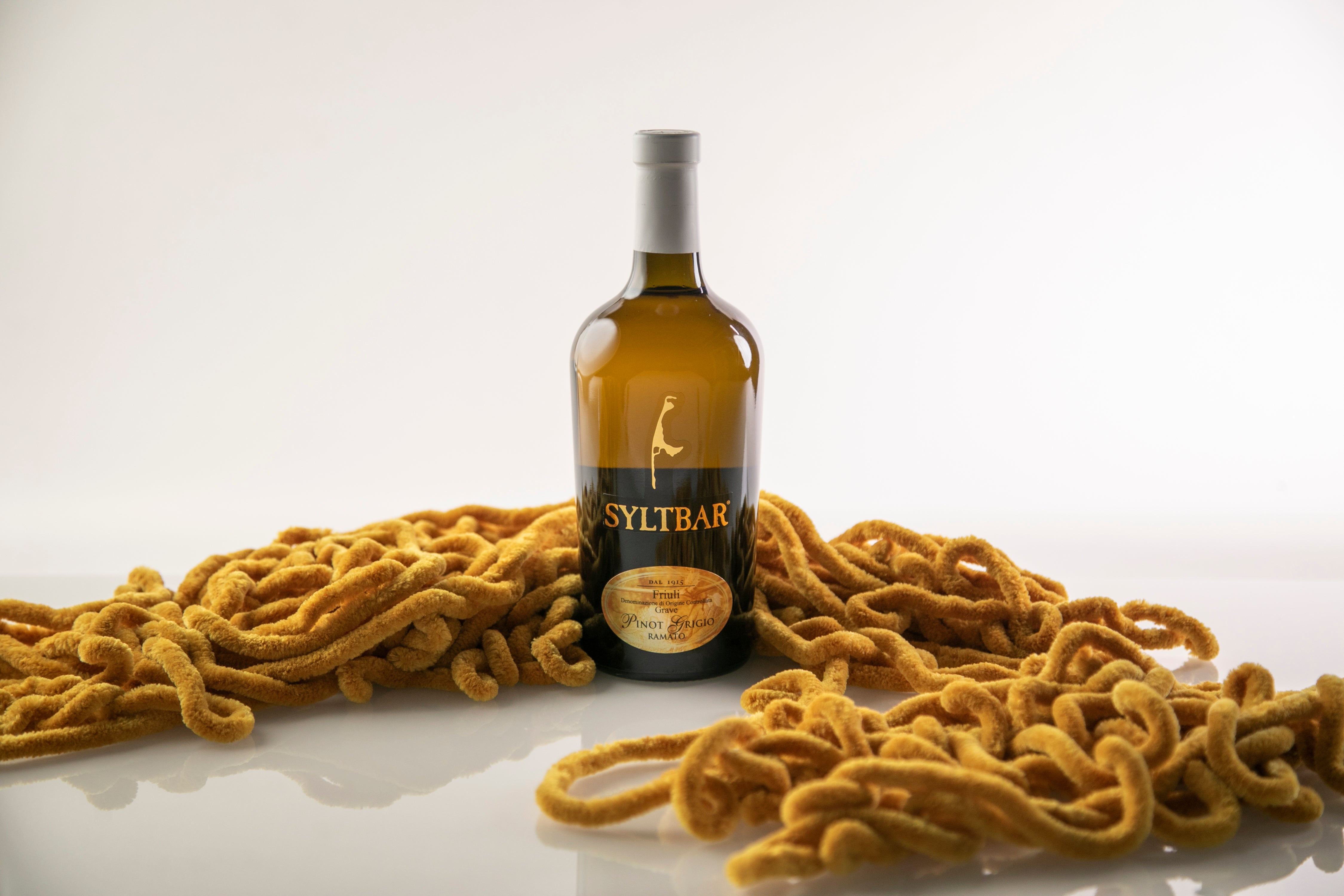 JUNIOR - Ramato 2021 - White Wine
The SYLTBAR Ramato is the traditional Pinot Grigio made in the '70s style of leaving the skin on for one night to macerate. This not only changes the color of the wine to a darker apricot-like shade but also gives the wine much more character than the Pinot Grigio we are used to. There are many more decisive and evolved aromatic notes in this young wine, which is very unusual. If you don't typically enjoy Pinot Grigio, you might enjoy our distinctive Ramato, Nickname Junior because of the bottle shape.
Regular price
Sale price
$26.99
Unit price
per
Free ground shipping with 12+ bottles
Orders before 10AM EST ship same business day.
Junior Product Details
100% naturally-produced

 Original Pinot Grigio in Friuli, Italy
100% Pinot Grigio Grape
98 calories per 6 oz glass (avg. calorie count by glucose level)*
750ml (23oz) per bottle
13% Alcohol Content by vol.
Consume within 2 days of opening (NO added Sulfites)
Ramato Tasting Notes
Notes of green pear, pomegranate, honeysuckle and pungent oily floral 
Aromatic, crisp background, dry and savory edge
Food pairings: prosciutto, salami, shellfish, pasta, white meat
Ideal serving temperature: 50-53.6 °F
*Fines wines have more alcohol content, which is why it has more calories compared to SYLTBAR Sparkling Wines (11.5% alcohol content by vol.)
Why is SYLTBAR Wine very low on sugar and sulfites?
All SYLTBAR wines are time – honored with the value of a long fermentation. The grape has time to develop to the full ripeness. Other Brands like to skip the long fermentation process (time is money) and they have to use much more sugar to make the wine taste full. A set of actions has always guided our wine producer with maximum respect of health for human beings
Very Low Sulfite Wine
Sulfites are a natural by-product of the fermentation process that act as a preservative against certain bacteria. A short fermentation process doesn't produce enough sulfites to preserve a wine for more than a few weeks, which is why added sulfites become necessary. Wine ranges from about 5ppm (5 parts per million) to about 250ppm/L. The legal limit in the US is 350ppm g/L. We are transparent, that is why you will find the filling date on our Mr and Mrs SYLTBAR bottles.
SYLTBAR is Vegan, Organic, Green Project Certified
Vegan Wines
The majority of wines are not vegan or even vegetarian friendly. All wines are cloudy and contain microscopic molecules. Our wines stay in the tank long enough to self-stabilize with the slow sedimentation of these particles. 95% of the wines contain clarifiers like egg white, gelatin and fish bladder to clear out those particles. Time is so essential for a 100% natural produced wine.
Organic / Green Project
SYLTBAR wines are much more than simply Organic. The Green Project is a set of actions, behaviors and procedures that have been put in place to contribute to the environmental sustainability of our business, respecting the existing territorial balance. "Social responsibility" has always guided our wine producer with maximum respect for the communities in which the winery operates. 100% no Additives
Unique and delicious
I order this wine by the case. It's absolutely delicious - crisp, not too sweet. I have a bottle in my fridge at all times. I's just a plus that this is lower calories and less sugar than all other Prosecco's!My new favorite Pinot Grigio. Very different. Citrus notes but smooth and creamy. Love the golden color!!
— Eugenia P.
One of the nicest Pinot Grigio I've had in a long time
One of the nicest Pinot Grigio I've had in a long time a nice easy wine with no after taste Clean and crisp citrus grapefruit
— Linda H.
SYLTBAR Junior
Hi, received my order today, just want to say thank you! Everything arrived perfect! I was afraid the bottles may not travel well, but they were packaged perfectly and arrived in great condition. Thank you for taking the time to package safely.
— Karleen O.
Nothing Added, Nothing Removed ...
Sugar is your Enemy
The University of Miami Diabetes Research Institute tested sparkling wines and found SYLTBAR has the lowest sugar content.

Our Extra Effort
Despite the fact that we are not vegan, our wine is vegan. The majority of wines are not vegan or even vegetarian-friendly.

Respect for Nature
The Green Project certification, found on each of our bottles, is a step above organic in respect of Mother Nature.
Sparkling Wine Sugar Comparison
Glucose (mg/100ml)

Syltbar

Zardetto

Chandon

Santa
Margherita

Veuve
Cliquot

Mionetto

Moet & Chandon

La marca

Ruffino
Sparkling Rose Wine Sugar Comparison
Glucose (mg/100ml)

Syltbar

Zonin

Graham
Beck

Chandon

Veuve
Cliquot

Mionetto

Moet &
Chandon

Anna Rose
Ruffino