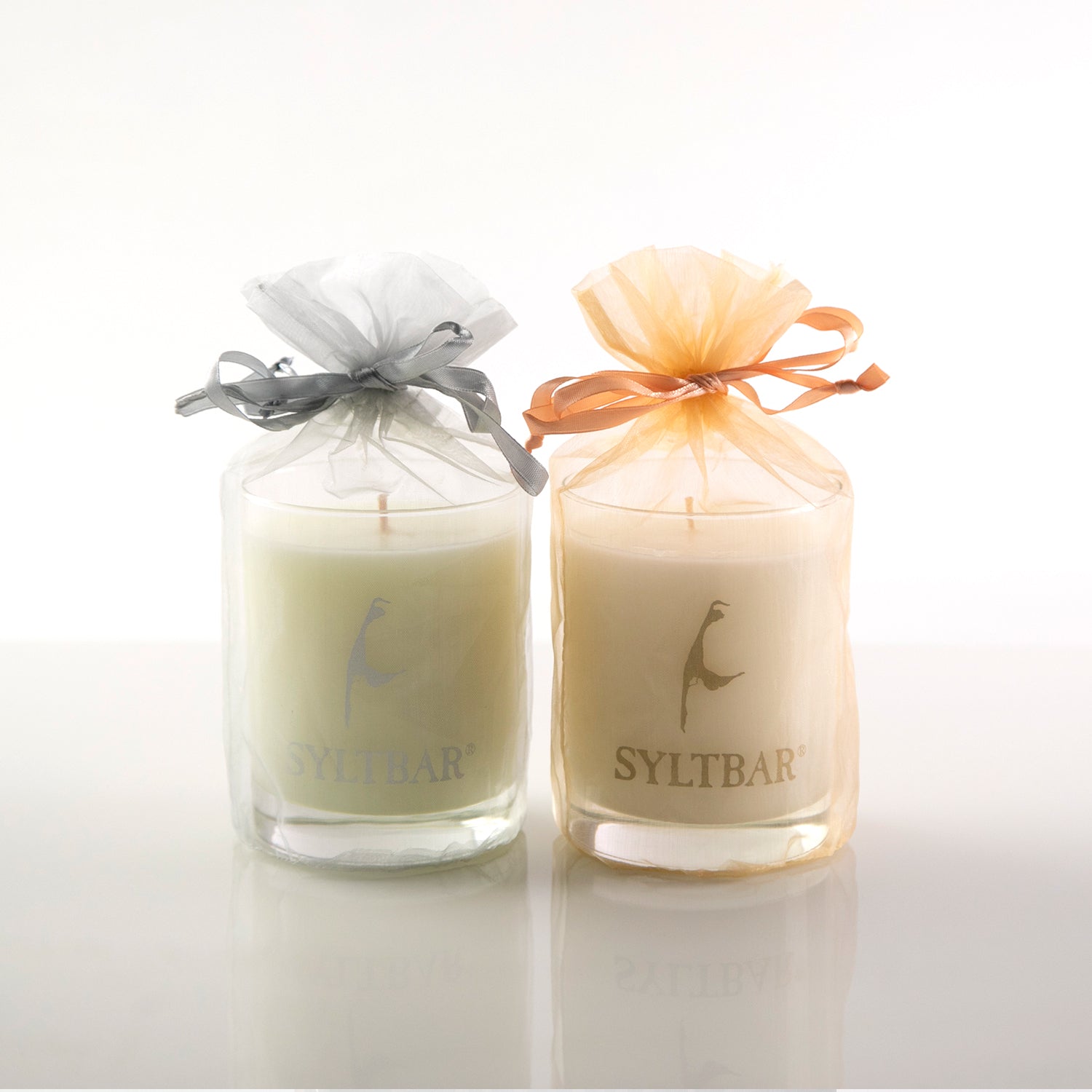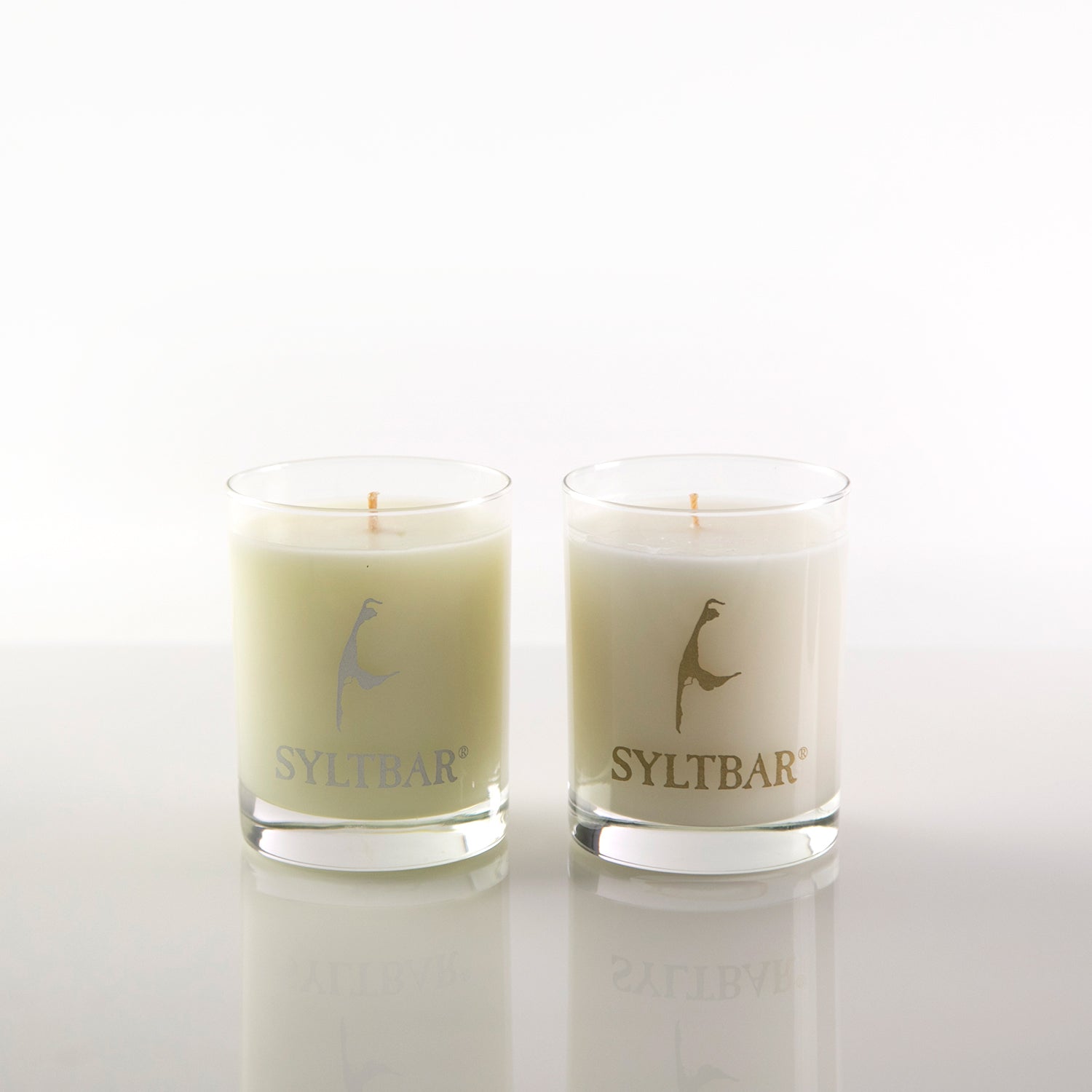 Soy Candle Couple
If you are looking for a longer lasting fragrance candles for your entire home we recommend our two 100% Soy hand poured candles. The two aroma's are scented with pine/musk and limoncello/verbena. Both contrasting fragrances will fit any mood.
Regular price
$84
Sale price
$74
Unit price
per
Free ground shipping with 12+ bottles
Orders before 10AM EST ship same business day.
Soy Candle Couple - Product Description
Pine and musk scent, high concentrations of fragrance oils
100% all-natural soy, dye-free candle.
100% cotton core, lead-free wicks (non-toxic, non-carcinogenic)
Gift wrapped in an organza bag
Reusable glass container for water, or other purposes

 

Hand-poured into 10.5 oz glass, eco-friendly
Made in the USA
Burns clean up to 80 hours
Limoncello and Verbena scent, high concentration of fragrance oils
100% all-natural soy, dye-free candle
100% cotton core, lead-free wicks (non-toxic, non-carcinogenic)
Gift-wrapped in an organza bag
Reusable glass container for water, or other purposes

 

Hand-poured into 10.5 oz glass, eco-friendly
Made in the USA
Burns clean up to 80 hours
Insider Tips
Don't be a snob. Choose a good Prosecco over Champagne.
There are excellent varieties of Prosecco from Italy that rival the best Champagne, and are even better than mediocre ones. A true wine lover should never be hung up on names and labels.
Sparkling wine is the most versatile wine to pair with food.
Many people tend to reserve sparkling wine for special occasions, but we really should have it all year round. Start popping SYLTBAR bottles like a pro, all 365 days of the year! Master Sommeliers have never hesitate to pick a bubbly to enjoy with dinner. After all, what food doesn't taste better with a squeeze of lime on it? A good sparkling wine, that is also acidic, can pair well with anything from tuna tartar to beef bourguignon.
Is sparkling wine in a split or half bottle worth it?
Simply put, no. Sparkling wine that comes in smaller bottles age faster due to a greater ratio of air to wine. That is why SYLTBAR doesn't offer smaller sized bottles.
It is not Champagne unless it comes from Champagne, FR.
Don't call sparkling wine from California or Australia "Champagne," however wonderful it may be. It is only Champagne if it's from that specific part of France. The same goes for Prosecco. Prosecco comes from Northern Italy, and Cava comes from Spain.
Don't allow the cork to pop loudly.
Remove the foil and the wire, hold the cork, and gently twist the bottle (not the cork). This allows the cork to release with a muted thud that says 'I am a person of the world,' rather than a loud explosion that says 'I learned all I know about Champagne from the scene in 'Dumb and Dumber' where they got rid of an endangered species with an exploding cork.'
Putting ice Cubes in Champagne or Prosecco is just trendy.
Just remember - trendy and tasteful are not the same thing. Ice can affect the delicate aromas of fine Champagne, Prosecco or any sparkling wine. If you think this sounds like a smashing good time, you probably aren't drinking if for the delicate aromas.
Older is NOT always better, especially for Prosecco marked Non Vintage.
When it comes to wine, this might be true. But this is not the case for Champagne and Prosecco marked Non Vintage. Non Vintage Prosecco should not be older than a year, so as to make sure it stays crisp and fresh.
What type of glass should you serve sparkling wine in?
Contrary to popular belief, Champagne flutes are not the best for properly enjoying sparkling wines and their aromas. Try putting your sparkling wine in a white wine glass or one designed to work with Champagne's chemical and aromatic compositions, such as the Riedel Veritas Champagne glass. Using a glass such as this ensures that the juice that has been imprisoned within the glass will have some space to breathe. Try it next time, it makes a big difference.
Stay away from mimosas - unless you make it yourself!
When you're brunching at a restaurant, it's tempting to enjoy a mimosa (or two), but restaurants need to make a profit, so their mimosas are usually a mix of very cheap sparkling wine and a lot of sugary, store-bought orange juice. Headache guaranteed - don't say we didn't warn you! A good mimosa should be made with a high quality sparkling wine, and should always be mixed with freshly squeezed orange juice.
IS a DOCG Prosecco is a better Prosecco than the DOC?
No, DOC (Denominazione di Origine Controllata ) and DOCG (Denominazione di Origine Controllata e Garantita) are two core standards of the designation for wine. They determine the location of where the wine was produced, not its quality.
GREEN PROJECT
Our Promise
The green project stands for more
than simply being Organic
Beyond Organic Wine
What is the Green Project?
The Green Project is a set of actions, behaviors, and procedures that have been put in place to contribute to the environmental sustainability of our business, respecting the existing territorial balance. "Social responsibility" has always guided our wine producer with maximum respect for the communities in which the winery operates.
Additives in Wine
The US Wine Industry
The wine industry has spent tens of millions of dollars lobbying politicians to keep content labels off of wine. Wine manufacturers are not required to list their ingredients on the label because wine is regulated by the Alcohol and Tobacco Tax and Trade Bureau (TTB), and not the FDA. This means that a bottle of wine (even expensive, highly-rated wines) can contain up to 72 "allowed" additives. You will find none of these in any of the SYLTBAR Wines.
Sulfites in Wine
How to Make Mass-Produced
Wine Last Forever
Those bad side effects you feel after consuming commercial wines are caused by toxins induced during farming and manufacturing. Most of the wines sold at big-box retailers contain genetically modified grapes farmed with chemicals like RoundUp and refined with additives.
Green Project
Low Sulfites Guarantee
Sulfites are a natural by-product of the fermentation process that act as a preservative against certain bacteria. A short fermentation process doesn't produce enough sulfites to preserve a wine for more than a few weeks, which is why added sulfites are necessary. Other wines ranges from about 5ppm (5 parts per million) to about 250ppm/L. The legal limit in the US is 350ppm g/L.
Amazing
I order this wine by the case. It's absolutely delicious - crisp, not too sweet. I have a bottle in my fridge at all times. I's just a plus that this is lower calories and less sugar than all other Prosecco's!This candle smells amazing and arrived quicker than expected! I will definitely be ordering more soon!

— David c
SYLTBAR Hope candle
I'll be home in a couple days and look forward to enjoying the best candles in the world!
— Elizabeth P.
Believe soy candle
Love this candle! Smells amazing & looks so pretty when lit. Also love the fact it's soy, since that's all I purchase.
— Laura L.
Nothing Added, Nothing Removed ...
Sugar is your Enemy
The University of Miami Diabetes Research Institute tested sparkling wines and found SYLTBAR has the lowest sugar content.

Our Extra Effort
Despite the fact that we are not vegan, our wine is vegan. The majority of wines are not vegan or even vegetarian-friendly.

Respect for Nature
The Green Project certification, found on each of our bottles, is a step above organic in respect of Mother Nature.
Sparkling Wine Sugar Comparison
Glucose (mg/100ml)

Syltbar

Zardetto

Chandon

Santa
Margherita

Veuve
Cliquot

Mionetto

Moet & Chandon

La marca

Ruffino
Sparkling Rose Wine Sugar Comparison
Glucose (mg/100ml)

Syltbar

Zonin

Graham
Beck

Chandon

Veuve
Cliquot

Mionetto

Moet &
Chandon

Anna Rose
Ruffino