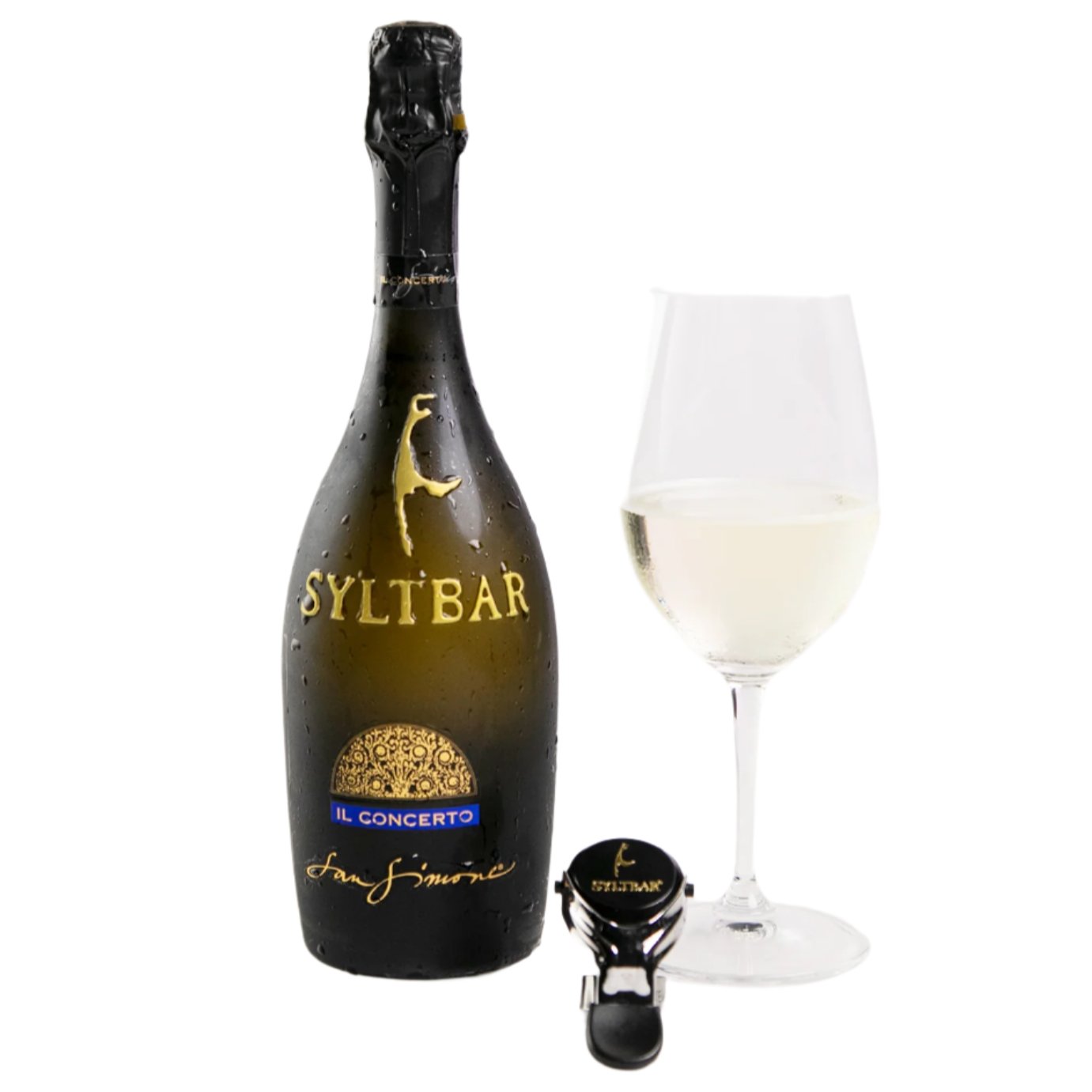 The Duos
Party of one? No problem! This set includes 1 bottle of Sparkling Wine. Pick between Mr SYLTBAR (Premium Prosecco) or Mrs SYLTBAR (Sparkling Rose) paired with their matching stopper. Perfect for daily solo celebrations!
Free ground shipping with 12+ bottles
Orders before 10AM EST ship same business day.
MR AND MRS SYLTBAR - PRODUCT DETAILS
CHAMPAGNE BOTTLE STOPPER - PRODUCT DETAILS
Clips securely on the bottle neck, and seals firmly in place
Long lasting, maintains the bubble quality until 3-4 days

 

Made in Italy, Patented Design
Stainless steel and quality materials
Reusable, pop after pop
GREEN PROJECT
Our Promise
The green project stands for more
than simply being Organic
Beyond Organic Wine
What is the Green Project?
The Green Project is a set of actions, behaviors, and procedures that have been put in place to contribute to the environmental sustainability of our business, respecting the existing territorial balance. "Social responsibility" has always guided our wine producer with maximum respect for the communities in which the winery operates.
Additives in Wine
The US Wine Industry
The wine industry has spent tens of millions of dollars lobbying politicians to keep content labels off of wine. Wine manufacturers are not required to list their ingredients on the label because wine is regulated by the Alcohol and Tobacco Tax and Trade Bureau (TTB), and not the FDA. This means that a bottle of wine (even expensive, highly-rated wines) can contain up to 72 "allowed" additives. You will find none of these in any of the SYLTBAR Wines.
Sulfites in Wine
How to Make Mass-Produced
Wine Last Forever
Those bad side effects you feel after consuming commercial wines are caused by toxins induced during farming and manufacturing. Most of the wines sold at big-box retailers contain genetically modified grapes farmed with chemicals like RoundUp and refined with additives.
Green Project
Low Sulfites Guarantee
Sulfites are a natural by-product of the fermentation process that act as a preservative against certain bacteria. A short fermentation process doesn't produce enough sulfites to preserve a wine for more than a few weeks, which is why added sulfites are necessary. Other wines ranges from about 5ppm (5 parts per million) to about 250ppm/L. The legal limit in the US is 350ppm g/L.
Nothing Added, Nothing Removed ...
Sugar is your Enemy
The University of Miami Diabetes Research Institute tested sparkling wines and found SYLTBAR has the lowest sugar content.

Our Extra Effort
Despite the fact that we are not vegan, our wine is vegan. The majority of wines are not vegan or even vegetarian-friendly.

Respect for Nature
The Green Project certification, found on each of our bottles, is a step above organic in respect of Mother Nature.
Sparkling Wine Sugar Comparison
Glucose (mg/100ml)

Syltbar

Zardetto

Chandon

Santa
Margherita

Veuve
Cliquot

Mionetto

Moet & Chandon

La marca

Ruffino
Sparkling Rose Wine Sugar Comparison
Glucose (mg/100ml)

Syltbar

Zonin

Graham
Beck

Chandon

Veuve
Cliquot

Mionetto

Moet &
Chandon

Anna Rose
Ruffino